World Meeting of Families:
Request for Hosts/Volunteers/Interest in the Final Mass (21st. to the 26th. of August 2018)
You may have noticed a Pink sheet at the end of the seat or at the back of the Church :  if you are interested in being a Host, a Volunteer or attending the Final Mass as part of a Parish Group, please return the completed form to the Sacristy/ Parish Office by June 17th.  For your convenience the form is also attached below.
The information will be passed onto the WMOF team in Clonliffe College. Thank you.
Pathways: Exploring Faith and Ministry Programme
Pathways is a two-year, one evening a week Adult Faith Development course on Thursday Evenings in Holy Cross College, Clonliffe road.
September to May (7.00 p.m. – 9.30 p.m.). Bookings now open. Early application is advised.
Contact : Pathways Director, Eileen Houlahan @ 01 8087594 or pathways@dublindiocese.ie
Website: www.evangelisation.ie
Child Safe Guarding- E-Vetting – Marino & Rosmini
Thank you to all those people who have already returned their Volunteer Vetting form.
This is a NEW E-Vetting cycle and If you have not yet returned a form please note that the documents can be submitted in person at Marino Parish office between 10 a.m. – 12 noon on weekdays.
Additional forms are available from the Parish Office.
Rosmini: For your convenience the documents can be submitted in person to Fr. Gaffney in St. Joseph's Church, (Rosmini) Gracepark Road, Dublin from 14th  May 2018 to 28th May 2018.
World Meeting of Families – Volunteers wanted.
The latest information on the World meeting of Families is contained in the link below.
Volunteers and Host Families are urgently needed.
https://www.worldmeeting2018.ie/en/
https://mailchi.mp/worldmeeting2018/pope-francis-grants-indulgences-for-wmof2018-pilgrims?e=2b6bb57eac
Alzheimer's Tea Morning 10th May
Grateful thanks to the Tea/Coffee Team for all their help in running this event – also to Lorraine and Maria who took charge of the raffle.
It was a most enjoyable social event, as our photos show, and raised €670 for the Alzheimer's Society, which has been forwarded on to them.
Our loyal Marino-ites provided their usual support!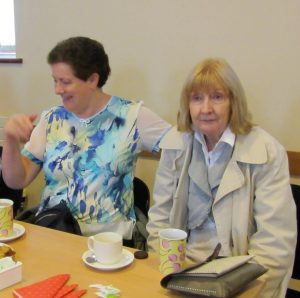 Pope Francis to visit Ireland for the World Meeting of Families in Dublin
The Irish Catholic Bishops' Conference today warmly welcomed the announcement by the Holy Father, Pope Francis, that he will attend part of the 9th World Meeting of Families which will take place from 21 – 26 August in Dublin on the theme, 'The Gospel of the Family: Joy for the World'.
Pope Francis, who is 81 years of age, will arrive in Dublin on Saturday, 25 August, and will take part in the 'Festival of Families' in Croke Park.
The Festival of Families is the faith-based cultural concert of the World Meeting of Families six-day programme. The next day, Sunday 26 August, Pope Francis will be the chief celebrant at Holy Mass in the Phoenix Park and this liturgy will bring to a conclusion the World Meeting of Families 2018.