Alzheimer's Tea Morning 10thmay
Grateful thanks to the Tea/Coffee Team for all their help in running this event – also to Lorraine and Maria who took charge of the raffle.
It was a most enjoyable social event, as our photos show, and raised €670 for the Alzheimer's Society, which has been forwarded on to them.
Our loyal Marino-ites provided their usual support!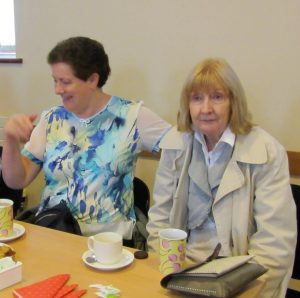 Urgent : Child Safeguarding and Protection Meeting
Please note that a special meeting with the Diocesan Safeguarding representative Garry Keogh will take place on
Tuesday May 1st in the Marino room at 7.30pm.
All Volunteers are requested to attend. Thank you.
Pope Francis to visit Ireland for the World Meeting of Families in Dublin
The Irish Catholic Bishops' Conference today warmly welcomed the announcement by the Holy Father, Pope Francis, that he will attend part of the 9th World Meeting of Families which will take place from 21 – 26 August in Dublin on the theme, 'The Gospel of the Family: Joy for the World'.
Pope Francis, who is 81 years of age, will arrive in Dublin on Saturday, 25 August, and will take part in the 'Festival of Families' in Croke Park.
The Festival of Families is the faith-based cultural concert of the World Meeting of Families six-day programme. The next day, Sunday 26 August, Pope Francis will be the chief celebrant at Holy Mass in the Phoenix Park and this liturgy will bring to a conclusion the World Meeting of Families 2018.