Celebrating our Volunteers
The Parish of St. Vincent de Paul, Marino and Rosmini, held a special celebration in St. Patricks College, Drumcondra, on Sat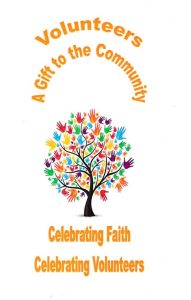 urday, the 9th of March. This reflective service in the beautiful college chapel, concentrated on the need to acknowledge how the work of parish volunteers keeps the mission of Christ alive in our parish and in every parish where there are volunteers.
The service with its carefully chosen readings, and the Church choir and our youth choir, made this a most prayerful and meaningful afternoon. The homily which was delivered by our guest speaker, the Reverend Canon Aisling Shine of Raheny Parish of the Church of Ireland and formerly of our sister Parish of St. John the Baptist, Drumcondra, gently guided us through the ministry of the volunteer. Acknowledging the dependence of every parish and all denominations on the tireless work of those who volunteer, she ended her homily by reminding us of the beautiful words of St. Teresa of Avila. St Teresa has reminded all of us that the mission of Christ can only be fulfilled through us as she says, in this world, 'He has no hands but ours, no tongue but ours, no feet to walk where He wishes us to walk'.
A truly engaging homily reflecting the shared experiences of all Christian churches in this modern world.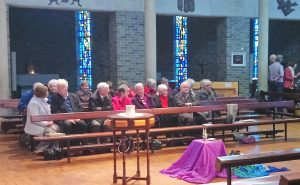 The congregation of almost two hundred volunteers was then entertained by the Dublin Airport Singers, who gave us a delightful selection of music to round off that part of the evening.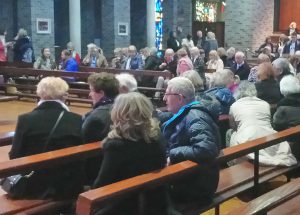 Afterwards, everyone retired for a meal in the dining hall of the college, where contacts were made and people came to together in that great way, over the 'breaking of bread'.
The Parish Pastoral Council, Father Tom Noone, our Parish Priest, and the other members of the Parish Team are to be congratulated on this great initiative.
Our photos show a cross section of the many people who attended.